A few weeks ago, I was reading the new Metropolis and there was an article that got me thinking, so I thought I'd make a post about it and see if I can get anybody else's thoughts.
There was an article titled "The Manchurian Main Street" talking about New Urbanist shopping districts. For those of you who don't know what New Urbanism is, it is a style of planning that "promotes the creation and restoration of diverse, walkable, compact, vibrant, mixed-use communities composed of the same components as conventional development, but assembled in a more integrated fashion, in the form of complete communities. These contain housing, work places, shops, entertainment, schools, parks, and civic facilities essential to the daily lives of the residents, all within easy walking distance of each other. New Urbanism promotes the increased use of trains and light rail, instead of more highways and roads. (from the new urbanism website)." To break that down a little, they seek to return to a time when development was a. multi-purpose b. easy to get around with out cars and c. aesthetically pleasing. For examples in Minneapolis, you can go to Grand Place on Excelsior Blvd or to "Main Street" in Maple Grove. Block E downtown also uses some New Urbanist architecture, but fails to follow through because it lacks multi-use tenants and also does a poor job of connecting to the street level. In Boston, there is a development near Beacon Street in Brookline and a shopping center called Mashpee Commons on the Cape that are good examples.
I've always been a fan of New Urbanist planning. In fact, when I choose a neighborhood to live in, the ideas behind New Urbanism are what I look for. I want to be able to walk, have public transit, shop and interact with my neighbors in my neighborhood. As I do not (nor do I plan to in the near future) own a car, these things take on even more significance. The only major difference is that I have always chosen to live in actual historical districts. If you take the average year that the building was built in my last three apartments, you get 1887. Despite the fact that New Urbanism seems to be the best planning out there right now, you still get the fact that they are only trying to copy something out of the past. To quote the article in Metropolis, it's "a strategy that doesn't solve the problems we've created so much as teaches us to forget them."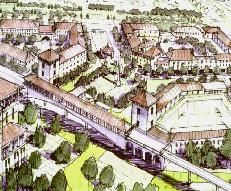 I also see parallels between this and the post-evangelical church movement. Essentially, we are reaching back to our imagined past to try to overcome the real problems that we've encountered in mixing Christianity with modernism, however, the problem is the same, we're not finding solutions to our problems, we are just going back to a time when we can forget that there were problems.
My question is, is this necessarily a bad thing? Like I said, it is all of the proponents of New Urbanist planning that I look for in a neighborhood. Does it matter if it was built in 1860 because it was the cutting edge or in 1990 because people wanted to forget the last 70 years of bad planning? But I have to ask myself, if we progressed from good planning in 1860 to bad planning in 1960 or from good Christianity in 1480 to bad Christianity in 1980, what is to prevent us from making the same mistakes again? Modernist planning and Christianity both grew out of trying to correct the problems of what came before, if we revert back, won't we just be doomed to repeat the cycle?
---
on a completly unrelated note, I just rearanged my links to be from people who post the most to people who post the least. I also added Dugan, though let it be know that I do not support his content. I always think its good to hear both sides of the story...both right and wrong... and at least he's thinking, which is more then you can say for most people.